Win Tailgate Season
Win the Tailgate This Season
Whether it's a sporting event or a concert, make your tailgate count.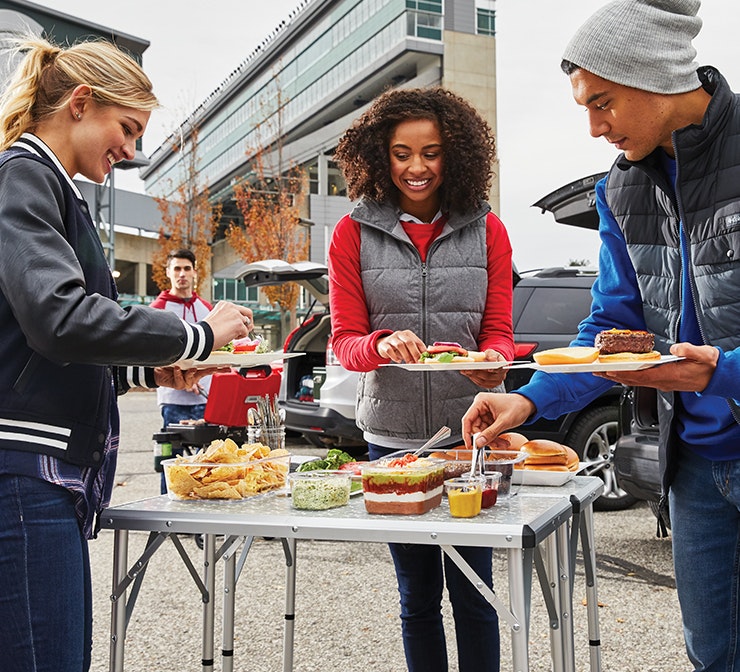 Tis the season (football season, that is) for people to gather up some grub, load up the car and fire up the grill for a little tailgating. But why should gridiron fans have all the fun? Be it a concert or a soccer match, tailgating (no matter what time of year) is a great way to add to the excitement and spend time with friends and family.
Divide food and supplies into coolers and plastic storage boxes to make preparation, serving and cleanup a breeze. Then grab the gang and enjoy some open-air eats.
Pro or college football game
Even casual fans know the good tailgating spots go fast, so get there early and be sure to bring enough food and supplies for everyone to enjoy. Pack some distractions, too: Tossing a football or throwing a Frisbee is a good way to burn some of those burger calories and gear up for the start of the game.
What To Bring
Food (in cooler): hot dogs, burger patties, veggies, cold salads, salsa and dip, drinks.

Food (nonperishables): chips, cookies, buns, Frisbee.

Food supplies: napkins, cutlery, condiments, plates, cups, bottle opener.

For cooking and cleaning: portable grill, lighter fluid, charcoal, grilling utensils, cleaning wipes, paper towels, garbage bags.

Bring along a plastic tote for collecting recyclable cans and bottles
Keep food, cleaning and cooking supplies separated in plastic storage boxes. Cold food and drinks should stay chilled in an insulated jug and cooler lined with Blue Ice.
Kid's sports game
Pack with a focus on healthy snacks that will keep energy levels high and won't require additional prep work by you. Got a child who's not playing? Pack a Frisbee, Hacky Sack or ball so he or she can stay active on the sidelines.
What To Bring
Food (in cooler): whole-wheat wraps or pita bread with cream cheese; veggies and low-fat dip; fresh fruit; string cheese; litterless juice boxes or on-the-go bottles filled with juice, water or sports drinks.
Concert
For a grownup evening enjoying music at a park or other outdoor venue, keep the refreshments sophisticated and simple.
What To Bring
Food (in cooler): cheese, grapes, apple and pear slices, beverages.

Food (other): French bread, nuts, crackers.

Serving supplies: napkins, spreaders, corkscrew, plates, cups.