Thanksgiving Leftovers Done Right
Thanksgiving Leftovers Done Right
Safe food storage tips to read before the turkey coma strikes.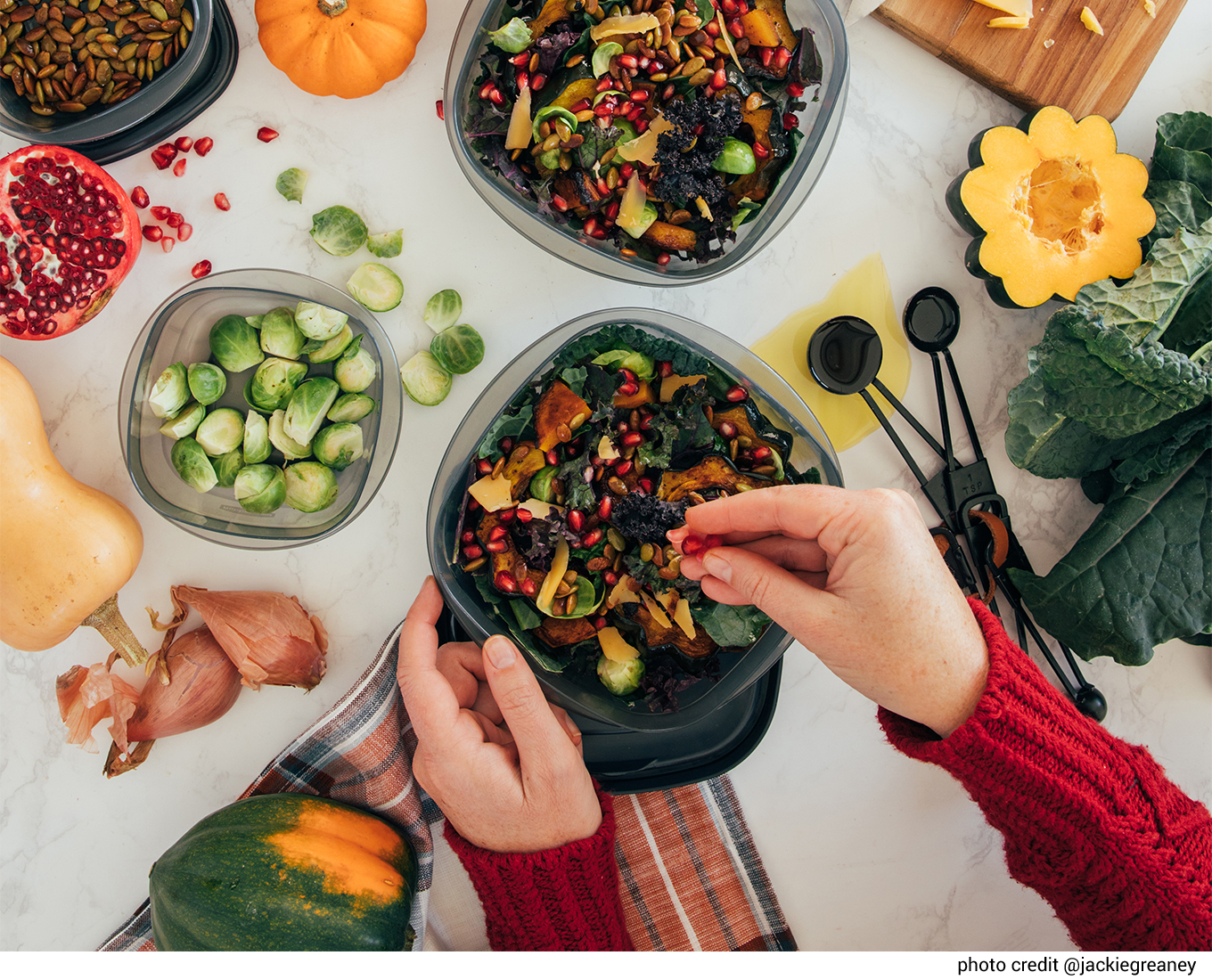 Let's face it, the only thing better than Thanksgiving turkey, mashed potatoes, stuffing, and veggies are all of the leftovers you'll enjoy the next day—sometimes enough to last through the whole week!
While leftovers are a delicious holiday tradition, handling and storing them properly is essential to avoid food contamination. Thankfully, Rubbermaid® is here to help with simple tips and practical products to ensure healthy Thanksgiving leftovers for all to enjoy:
Keep Storage Containers Small
It's unsafe to store food in large amounts, where they can't cool quickly enough. Immediately after your meal, remove stuffing from the turkey cavity and refrigerate the stuffing, mashed potatoes, gravy, and other side dishes in separate shallow containers for quicker cooling in the refrigerator.
It's important not to overpack the refrigerator, because you want to allow cool air to circulate around the containers to help keep food safe. Not only will Rubbermaid EasyFindLids™ with SilverShield®* help with meal prep, leftovers, and banishing stinky food odors, but they stack perfectly to maximize space in your pantry and fridge.
*Antimicrobial properties are built in to inhibit the growth of odor-causing bacteria on the product surface. This product does not protect users or others against foodborne bacteria. Always clean and wash this product thoroughly before and after each use.
Timing Is Everything
Refrigerate or freeze perishables, prepared foods, and leftovers as soon as possible after serving. Use refrigerated leftover turkey and stuffing within three days; and gravy within one to two days. And, forget wasting time searching for lost container lids, with the Rubbermaid EasyFindLids Vented Containers, the lids snap directly to the base— and to each other—so you can always find the right lid.
Temperature Talk
Check your refrigerator's temperature. To keep food and leftovers safe, you should keep your fridge between 34 to 40 degrees Fahrenheit at all times. Reheat leftovers thoroughly to a temperature of 165 degrees Fahrenheit or until hot and steaming. Speaking of leftovers… Rubbermaid EasyFindLids Vented Containers have vented lids to let you reheat leftovers, splatter-free!
Don't Forget to Share
One of the best parts of your Thanksgiving feast is sending your friends and family home with tasty leftovers to enjoy the next day and beyond. Be sure to stock up on Rubbermaid TakeAlongs® Food Storage Containers, a practical (and affordable) way to pack leftover parting gifts for your guests to take with them when they leave. Microwave- and freezer-safe, they're conveniently stackable, too.