Plan Ultimate Holiday Cookie Swap
Plan the Ultimate Holiday Cookie Swap
Spread holiday cheer this year and start a sweet new tradition.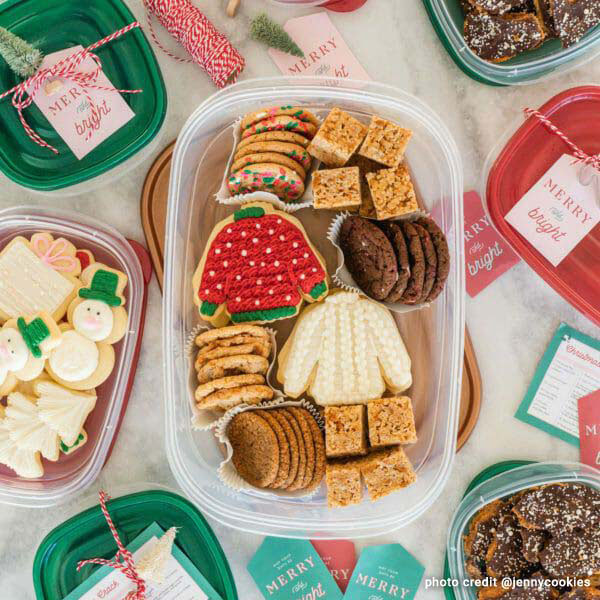 Cookie swaps are a great way to bring friends and family together for a little holiday cheer, with minimal work and lots of fun. Get ready to share your favorite cookie recipe—and maybe even discover a new one —as you gather your family and friends together for a day of holiday baking fun. Plus, some delicious parting gifts when you send friends home with Rubbermaid® containers jam-packed with holiday cookies.
The Swap
Cookie swaps work best with 5 or 6 families, which will give you a nice array of different cookies to try, but the size of your event can vary depending on your hosting space and social circle. Depending on the size of the swap, guests should plan on bringing 2-6 dozen of their favorite cookies, enough for each person or family to take 2-3 cookies home with them. Each cookie recipe will have its own story that can be shared with the group. If guests need help choosing a cookie recipe, Pillsbury® always has great recipes to choose from.
As the host, be sure you have plenty of food storage containers on hand for people to be able to gather up their cookie portions to take home. Our TakeAlongs® Food Storage Containers are a great option because they'll hold plenty of cookies, keep them fresh for days with their snap-tight lids, and they're economical, too. Be sure you have enough room to lay the different cookies out on platters and allow people to taste a few. If you will have children attending the event, you might want to plan a few activities, from icing and sprinkle duty for the tops of cookies to decorating the outside of the food storage containers for making cookie transport a little bit more festive.
Cookie Swap Countdown
Now that you've decided to host the cookie swap, our timeline will make the planning so much easier.
One Month Before
Pick a date and send out invitations (email invitation programs are a great way to invite people, send updates, and track RSVPs)
Two or Three Weeks Before
Notify the group if anyone has any food allergies

Pick out the cookie recipe you want to make, and if it's your first time making it, do a sample run to try it out
One Week Before
Two-Three Days Before
Buy all the ingredients you will need for your cookies
Night Before
Bake your cookies

Pull out some cookie platters for displaying everyone's cookies

Rearrange any furniture, if needed, for easier maneuverability and cookie access

Wash and set out TakeAlongs Food Storage Containers
One or Two Hours Before
Set out your cookies

Relax and get ready to enjoy your guests!