Easy Ways to Maintain Clean Countertops and Sinks
Easy Ways to Maintain Clean Countertops and Sinks
Keeping your countertops and sinks clean doesn't have to be a drain.
The kitchen is the hub of your home. And typically the highest-traffic area within that hub is the sink and counter space—its vital organs. Organizing your counters, sink and cabinets is important to maintaining order and avoiding the kind of untidiness that quickly gets out of control. Ask yourself how you want these spaces to function for you and your household. Bearing that in mind, you can outline steps to get everything (including the kitchen sink!) in running order. This may benefit from dividing kitchen up-keep into daily, weekly and monthly intervals and having a few key products to help along the way.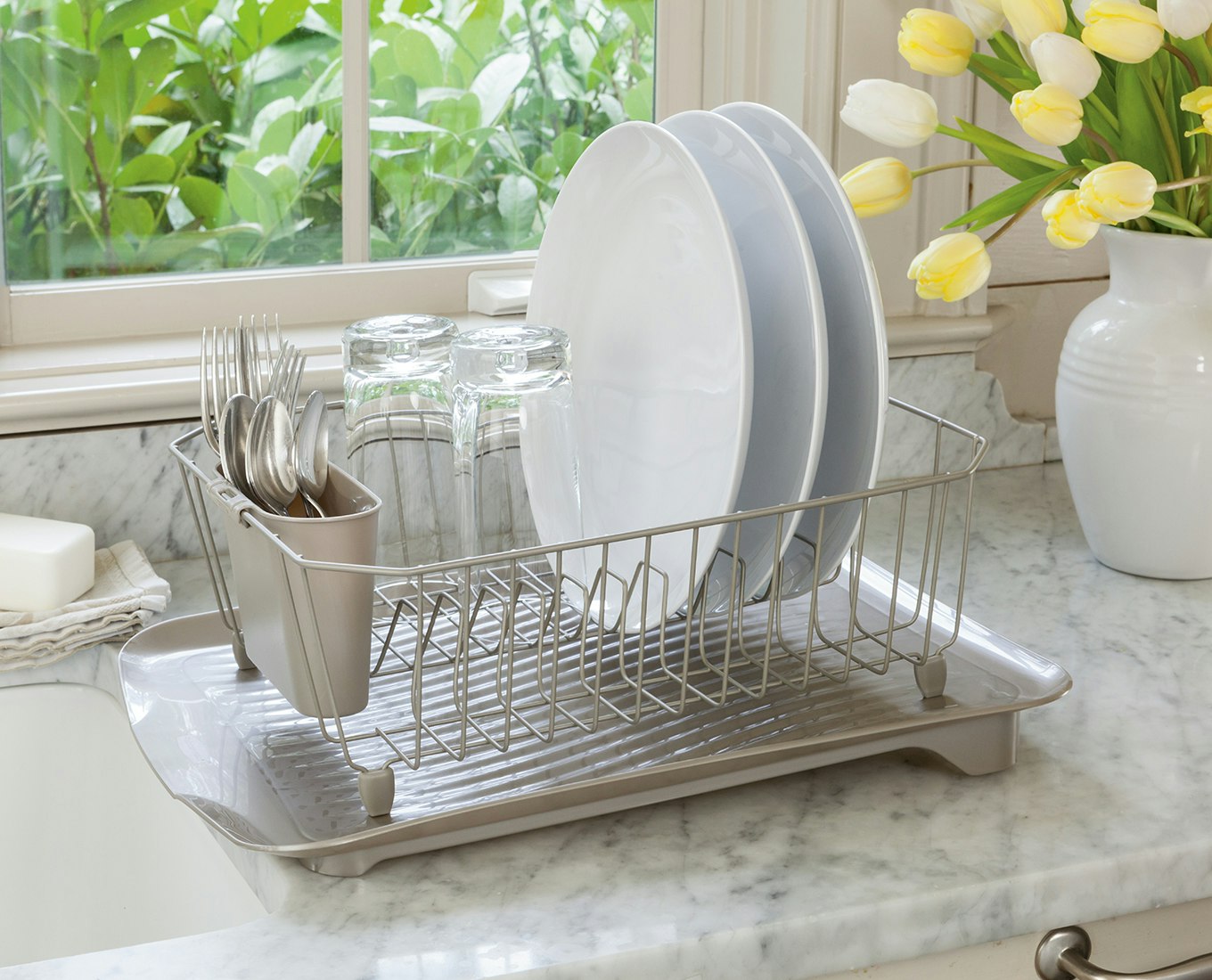 Daily duties

After every meal the dishes should be done—cleared away and either loaded into the dishwasher, or hand-washed and left to dry. This way you avoid an inevitably growing dirty dish pile-up in your sink and on your counter space. If it helps, adopt the mantra: mealtime is not over until the dishes have been done. For dishes you intend to drip-dry use a small or large Rubbermaid Drainer, with its unique loft that works two ways: vertically, for cups, and horizontally, for large utensils. Make sure that the Drainer gets emptied and all the plates, cups, saucers and cutlery are returned to their homes. The counter should be wiped down with anti-bacterial wipes to clean away bacteria from what is a primary food preparation station. Keep your scrubs and brushes in a handy Stick and Store Basket Caddy.
Weekly workings

Every week you should do a more thorough clean up and tidy. A careful counter and sink scrub is in order. Tip: use vinegar and water when cleaning your kitchen, it's better for the environment and it's safe if you have children or pets. Put away all your cutlery and dishes. To lengthen the life of your sink use a Sink Protector to keep any heavier items from denting, scratching or chipping its finish. Keep a dishpan handy for cleaning or to help soak dishes, pots or pans with stuck-on grease.
Monthly maintenance

Once a month your cupboards are due for a good scrub. Empty all your shelves and clean up any spills, crumbs or standing water, a great way to keep bugs away. Conduct another vinegar and water wipe down to kill any mold or bacteria. Take an inventory of your utensils, plates, cups, and saucers. Sort through items and throw away anything that may be chipped, return items to their rightful place if they were misplaced and see what needs to be replaced.
Micro managing

The kitchen, as you'd expect, can be a fertile breeding ground for microbes like bacteria, mold and mildew. Left unchecked, bacteria levels can actually double in number every 20 minutes. Fortunately, all Rubbermaid sinkware is manufactured with built-in Microban antimicrobial protection, which inhibits the growth of bacteria that can cause stains and odors. They also stay cleaner and fresher between cleanings and won't wash off or wear away, providing continuous protection for the life of kitchen product.
With regularly scheduled cleanings and the benefits of Microban technology, your kitchen can become—and remain—a clean, organized and effective hub.