Don't Wait Until Next Year to Organize Your Sports Gear
Don't Wait Until Next Year to Organize Your Sports Gear
Organize sporting equipment by season for maximum performance.
Safely stowing your warm weather sports equipment is key to keeping it in good condition for next spring. Meanwhile, prepping your winter gear for the season ahead will ensure you get maximum performance from your equipment, and never delay an outing while you log maintenance time. Here's what to do now to close the season in the sun, and get set for winter fun.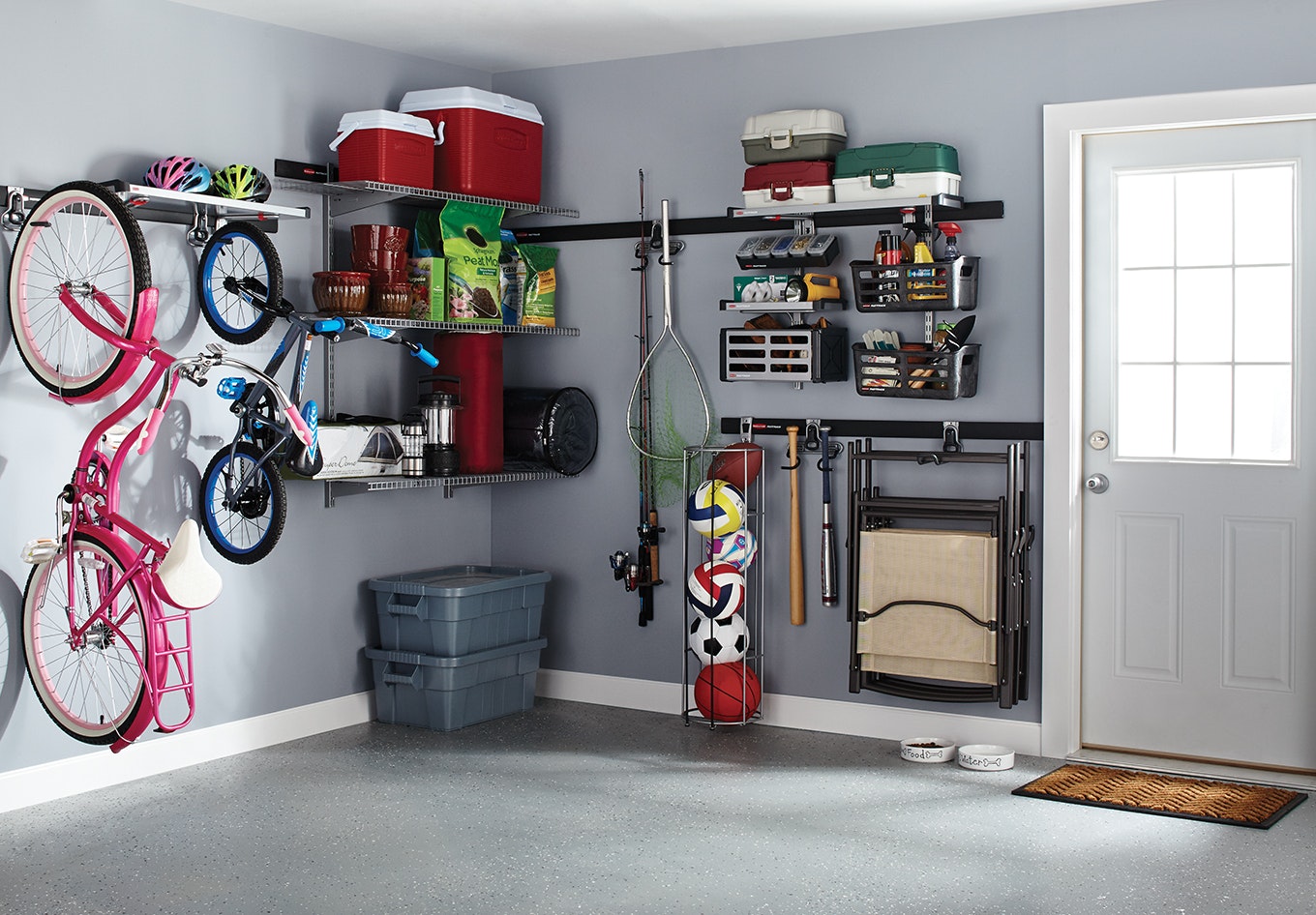 1. MOVE SUMMER GEAR UP & AWAY
Use Rubbermaid's Fast Track garage organizer and accessories to create upper and lower levels of storage. Get summer gear off the floor and higher on the wall, where it's accessible if needed – grab those Rollerblades if you're visiting your brother in Florida this winter – but not in the way of more frequently used winter sports gear, which should be placed lower.
Get 'board: Rubbermaid's FastTrack Winter Sports Rack to hold all your sporting equipment.
• Bicycles
Wash dirt off bikes, add fresh grease to the chain, and then deflate the tires. Save the tune-up for next spring. Use vertical or horizontal bike hooks to get bikes off the floor. Both types of hooks can hold kids' or grown-up bikes, but we chose vertical for a child's bike and horizontal for an adult bike, minimizing encroachment into the garage interior, although this means using up more horizontal, potential hanging or shelf space.
• Golf gear
These can stay out in the garage, although many people like using insulated winter golf/travel bags for extra protection and so they're ready to go at a drop of a hat should the opportunity for a warm-weather golf trip, or round of winter golf (growing in popularity) come up. Handiest solution? Hang your golf bag (or two) from a golf bag rack.
• Other gear
Clean your equipment, applying conditioning cream and protectant to leather items. Use FastTrack baskets, shelves, and other hooks to store them off the floor so they can avoid getting wet or damaged. Save any tune-ups, re-stringing or other pre-season maintenance for the spring.
2. BRING ON THE WINTER GEAR
Make the switch from spring/summer to fall/winter sports equipment in fall so you have time to enjoy any remaining warm autumn days, as well as get a jump on winter maintenance.
• Snowboards & Skis
Clean off old wax and grime by dipping a soft rag into a ski or snowboard cleaner and gently scrub until buildup is gone. Inspect the skis or board for damage, and take it in for repairs or a tune-up to get dull edges back into shape, if necessary. Wax with an all-season wax. Check bindings and boots are secure and in good shape. Hang gear on a Winter Sports Rack so it's ready when you are.
• Ice Skates
Have skates professionally sharpened, and polish the leather. Protect blades with guards and you can hang two to three pairs of skates together on one FastTrack Multi-Purpose Hook.
• Hockey gear
Use FastTrack's 3 Handle Hook, to keep hockey sticks in order. Clean protective gear, check helmet for any cracks (replace if any are present), and hang gear from hooks, or store on shelves.