3 Keys to a Great Garage Storage System
3 Keys to a Great Garage Storage System
Getting your garage in order isn't as daunting as you think.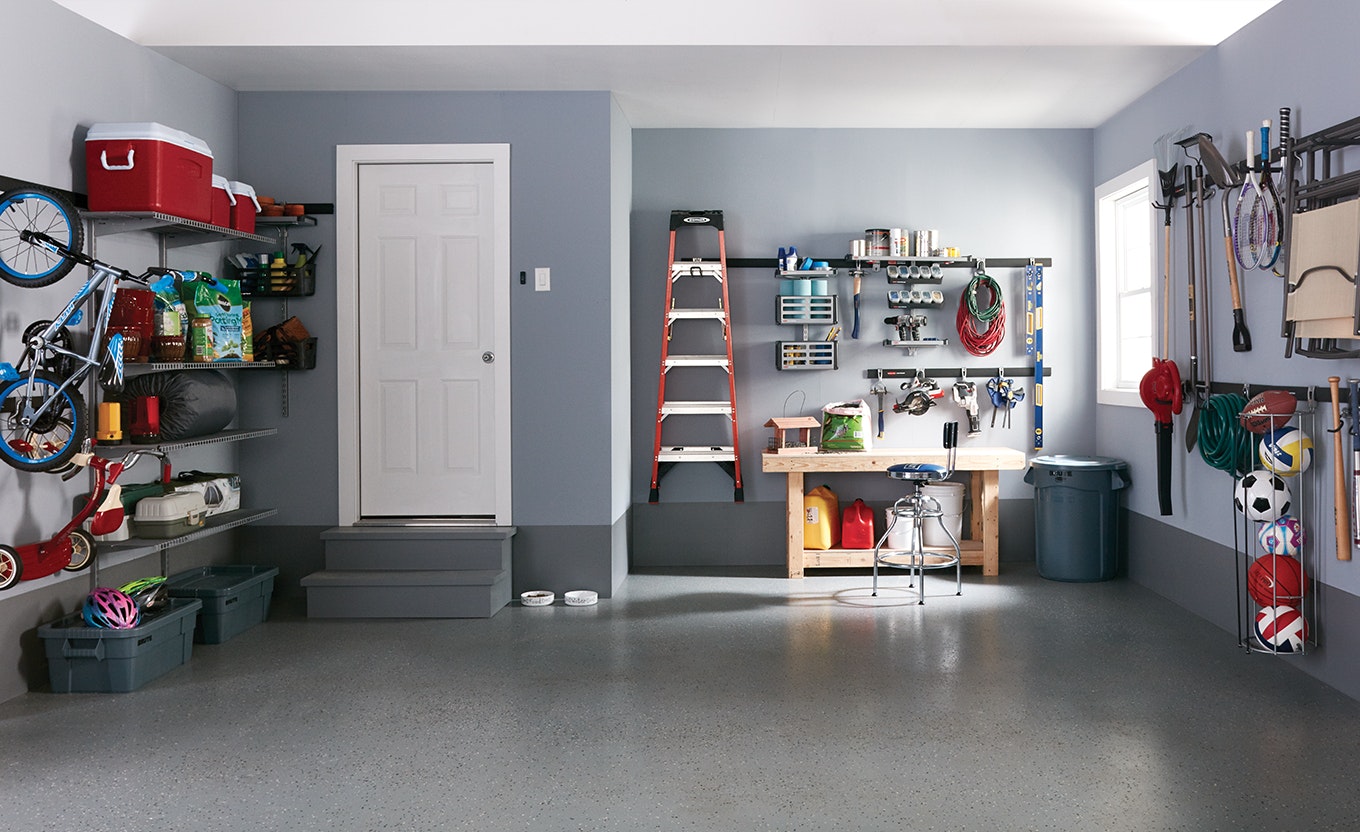 Your garage may seem like one of the hardest places to tackle during spring cleaning. It's certainly one of the more overlooked spots from a home-organization standpoint, leading to clutter and mess. As a result, tidying it seems more daunting.
But there's good news, courtesy of Rubbermaid's FastTrack Garage Organization System. Think: easy, versatile and expandable. This easy-to-install and easy-to-adjust rail-and-hook system sets up quickly, offers smart storage configurations, and can help you carve out more space for your seasonal essentials. That means if you make its installation the cornerstone of your spring-cleaning, you can say goodbye to clutter and mess, and hello to having everything in its place—every season of the year.
Here's how to make garage organization a snap.
EASY
FastTrack makes the most of your garage's storage capabilities by raising items off the ground to keep them safe and dry, and to make use of vertical-space rather than floor-space. The wall-mounted rails are the backbone of the system and work with any standard 16- or 24-inch stud spacing. The heavy-duty steel rails can hold from 1750 to 2000 lbs, depending on rail size. Rail covers offer a clean surface.
VERSATILE
FastTrack offers a large number of accessories to make the most of your system. Stash sporting equipment with the Golf Bag Rack. Safely and securely hang tools like ladders and wheelbarrows.
There are dozens of accessory options, making this an exceptionally versatile storage system. You can further adapt your garage storage to the season by using Roughneck bins to hold seasonal bulk items like mulch and soil in spring, or sidewalk salt or sand in winter.
Once the rails are in place, dedicated hooks, holders, racks, shelves and even closed-door storage cabinets can be snapped on without tools. All the accessories can be moved as often as you wish, with ease.
EXPANDABLE
A key feature of FastTrack is that increasing your storage is as simple as installing another rail and snapping on a utility hook or storage shelf. You can start with a few rails and hooks, and build into a full wall system, as desired: simply add-on more hooks and rails until your storage space is maximized.