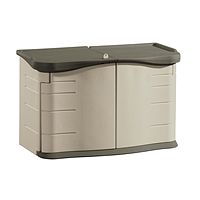 The convenient split lid allows you to access the shed from either side or open both lids to access the entire unit. Easy to assemble, the Split Lid Shed is maintenance free with a promise of no rot, no rust, no problems. It has a storage capacity of 18 cubic feet, includes an impact resistant floor and one wooden shelf.
Storage Capacity: 18 cubic feet
Inside Dimensions: 3'11" w x 1'9" d x 2'5" h
Durable: leak-resistant, dent-resistant, weather-resistant
Maintenance Free: no rot, no rust, no problems
Easy split-lid access from either side
Heavy duty, impact resistant floor included
Easy to assemble
Lockable (lock not included)
Product Specifications
Where to Buy
Shop Rubbermaid.com

Split-Lid Shed : (#3753)
Carton Dimensions & Weights (Approx.): 56.5"L x 36.4"W x 12.5"H (54 lbs.)
Size: Outside Dimensions: 4'7" L x 2'4" W x 3'H
Available Colors

Not sold online at Rubbermaid.com. Please check your local store for availability and price.