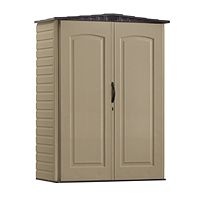 Need some extra space to store lawn and gardening tools? The Rubbermaid Small Storage Shed is the perfect size. The double wall construction provides an extra layer of protection from the elements. Unlike wood sheds, it is maintenance free and will not rot or rust. The shed is easy to assemble and with the use of Rubbermaid wall anchors you can easily organize your belongings inside the shed.
Storage Capacity: 53 cubic feet
Inside Dimensions: 52" w x 24" d x 72" h
Perfect height for long handled tools and is ideal for storing lawn and garden supplies including pots, bags of fertilizer and gas cans
Durable double wall construction provides an extra layer of protection for added strength and security
Leak-resistant, dent-resistant, weather-resistant
Maintenance Free: no rot, no rust, no problems
Heavy duty, impact resistant floor included
Easy to assemble
Lockable (lock not included)
Use Rubbermaid wall anchors to add peg board, shelves and other organizational accessories to the inside of the shed
Product Specifications
Where to Buy
Shop Rubbermaid.com

Small Storage Shed : (#5L10)
Carton Dimensions & Weights (Approx.): 78.3"L x 29.7"W x 14.4"H (110 lbs.)
Size: Exterior Dimensions: 4'7" L x 2'4" W x 6'5" H
Available Colors

Not sold online at Rubbermaid.com. Please check your local store for availability and price.