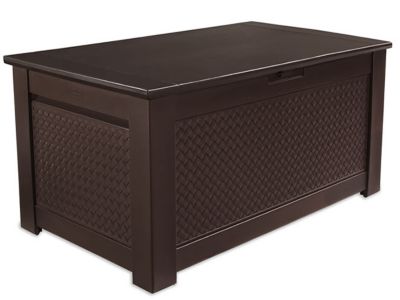 Introducing the new Rubbermaid Patio Chic Storage Bench! With all the stylish details of modern outdoor furniture, the Rubbermaid Patio Chic Storage Bench features a basket weave pattern to complement your décor. There is plenty of storage space inside for patio seat cushions, garden supplies or toys. The lid offers a flat surface area for serving or seating space, plus it has easy-access lid hinges that open and close with just a light touch. The storage bench is made of weather-resistant material to protect your things from sun, rain and snow. You will love the Patio Chic outdoor storage solutions that look like furniture and last like Rubbermaid!
Product Specifications
Where to Buy
Shop Rubbermaid.com

Patio Chic Storage Bench : (#1Q06)
Carton Dimensions & Weights (Approx.): 46.7"L x 29.7"W x 6.9"H (45 lbs.)
Size: Exterior Dimensions: 3'10" L x 2'5" W x 2'1" H Interior Dimensions: 41" L x 24.5" W x 21" H
Available Colors

Not sold online at Rubbermaid.com. Please check your local store for availability and price.