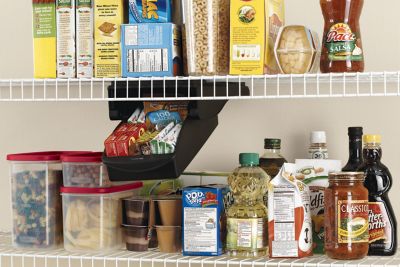 Designed for wire and wood shelving, the Rubbermaid Small Drawer mounts under shelves and slides out and down so you can easily access stored items like spices, packets or even linens. It can hold two standard sized packages of wraps such as aluminum or plastic wraps. This is the perfect product to maximize your storage space in your pantry as it creates storage in the unused space under your shelves.
Mounts under shelf to maximize space
Creates storage in unused space under cabinets under cabinet/shelves
The Small Drawer holds up to two packages of wraps
Store small items like spices, packets or even linens
Long enough to fit bags & wraps
Slides out and down for easy access
Installs easily with 4 clips or screws
Works on wood AND wire shelving
Durable, Easy to Clean by simply wiping with a damp cloth
Holds up to 5 lbs
Product Specifications
Where to Buy
Shop Rubbermaid.com

Small Drawer : (#3R50)
Size: 15.5" L x 7.62" W x 4.15" H
Available Colors

Not sold online at Rubbermaid.com. Please check your local store for availability and price.