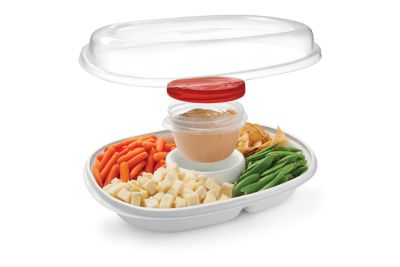 Rubbermaid Party Platter is a lightweight two-in-one food container designed for entertaining at home or taking a dish to a social event. The large divded base keeps different types of food separated, while a smaller leak-proof inner container holds the dip and nests snuggly into the base. Each container comes with a secure lid that creates a tight seal and allows for safe and easy transportation.
Large outer container with a secure lid to hold chips, veggies, and other snacks
Removable Twist & Seal™ dip container nests snuggly into the base
Leak-proof Twist & Seal™ lid secures the dip and prevents spills
Divided platter base keeps different foods and snacks separated
Outer lid snaps onto platter base for a tight seal and secure transporation
All components are BPA-free
Microwave, dishwasher, and freezer safe
Get more leak-proof Twist & Seal™ containers (#7J00) to serve more dip options at your party!
Product Specifications
Where to Buy
Shop Rubbermaid.com

New

Party Platter (#1W88) : (#1W88)
14.44" x 10.63" x 3.81" Outer container: 2.3 L | 9.6 cupsDip container: 473 mL | 2.0 cups
Available Colors

Not sold online at Rubbermaid.com. Please check your local store for availability and price.