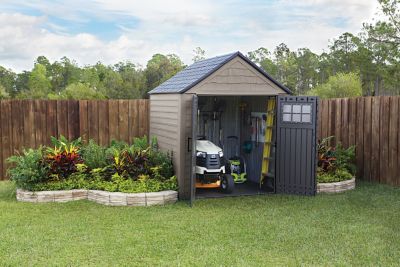 Your Reviews
4.24 out of 5
I"d love to buy this shed. Right now I have a metal one that is rusting. This is wonderful because it will never rust. It is also user friendly. I like the idea that you can arrange to put up shelves. This is great to keep things that I use regularly....
Quick Facts
Is your outdoors organized? Everything is coming outside, not just the kitchen. According to a 2008 survey of leading members of the American Society of Landscape Architects (ASLA), more homeowners will add entire great rooms outdoors.
(Source: housingzone.com)

Great for storing riding mowers, bicycles, garden tools, large powered equipment, yard supplies, trash cans or seasonal items such as ladders and snow blowers.

This easy to assemble shed is durable. It's leak-resistant, dent-resistant and weather resistant. It has plenty of space for lawn and garden tools, trimmers, and other outdoor items. It's maintenance free: no rot, no rust, no problems.